Have you ever had a ghostly encounter that struck fear into your mind for the remainder of your life? Ever heard shrieks of crying women and children at unusual hours of the night? Have you ever witnessed a haunting? Have you ever heard horrifying stories that sent chills down your spine? Have you ever heard of someone who got to be possessed by spirits just because that person happened to be at a cursed place? Have you ever had hallucinations surrounding the ghostly creatures?
We hear all sorts of stories and even might have enjoyed watching horror movies on the reel screen. But, when the reel turns real, that's when things start turning topsy-turvy. Many people believe in ghosts and other-dimensional stuff,  many don't.
Well, if you're in Delhi and have a keen interesting in digging up more about the stories that revolve around the cursed,  ghosts, spirits, possessed, spooky stuff,  then feel free to drop by these places!
Bhuli Bhatiyari ka Mahal
This building used to be the hunting lodge way back in the 14th century for the rules of the Tughlaq dynasty. It is located near the Hanuman statue which isn't far from the Jhandewalan Metro. There are various stories that surround this place. Some say that this place was the abode of a queen, others say that a fakir had cast a spell on this place.
Legend has it that sounds could be heard from the Mahal at late hours of the night.oices of men and women whispering could also be heard which are so eerie that they can scare the bejesus out of anyone!
Well, visitors are strictly prohibited to enter the Mahal in the first place, so there occurs no way to verify these claims.
Agrasen ki Baoli
It is a monument that was built back in 14th century and name after the then ruler Raja Agrasen. It was built in 3 stages and has a total of 108 stairs. The famous thing about the Agrasen ki Baoli is the black waters contained in it. They seem to cause hypnotism and have led to many suicides over the years.
Luckily, the wells hardly contain water these days which has put a stop to the death toll.
Feroz Shah Kotla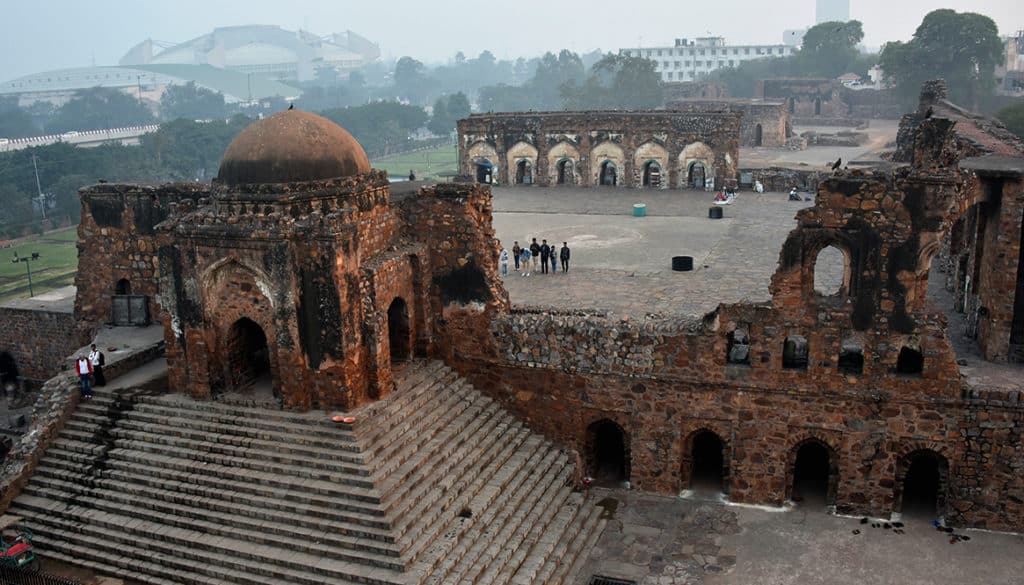 Not many know about the history behind the Feroz Shah Kotla's hauntings. It was built in the 14th century by Feroz Shah Tughlaq and has a story that comprises invisible djinns, free spirits that remain in this place. What's astonishing is that though this place happens to be haunted, people visit here frequently and light incense sticks for the djinns that lie here and offer grains, milk, and letters to them!
Khooni Darwaza
Built in the 1540s by Sher Shah Suri, it was earlier named as Lal Darwaza.  The place earned its current name at the time of Jahangir's rule when he beheaded his stepbrothers who were the grandchildren of Bairam Khan and left their bodies to deteriorate here.
Also, Aurangzeb happened to have his brother headed and kept for display in the Khooni Darwaza. Another story that revolves around this place is that of Captain Hudson who shot down Emperor Bahadur Shah Zafar's heirs. It is supposed that the children of Bahadur Shah Zafar still haunt the place and never leave a stone unturned in tormenting the white people.
Courtyard of Jamali Kamali Mosque

Situated within the Mehrauli Archaeological Park, Jamali Kamali Masjid got its name after the Sufi saints that got buried here back in 1535. There have been frequent hearing of voices and sounds, animals barking, women squealing and laughing from the graves.
Some people have also reported of being hit or pushed by invisible creatures, while others have mentioned about their names being called repeatedly. To the amaze of people,  all these haunting activities take place not just in late night but in broad daylight as well.
Honestly, I would urge people not to push their luck just to satisfy their haunting needs and desires. Though, Science may not believe in the existence of ghosts and worldly creatures, but, the fact remains that there is something out there,  dangerous, horrifying that doesn't like anyone meddling with it and it's for the best not to resort to any activities that later puts you in a state of predicament.